Flechten mit Maisblättern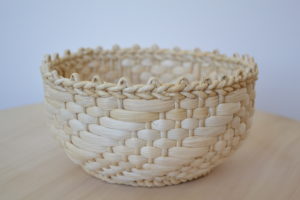 Weaving with corn leaves
In the villages between Sighisoara and Targu Mures, many people, mostly women, still master the craft of weaving with the leaves of corn on the cob. This craft particularly spread in 1940 in the village of Dumitreni. A flood destroyed most of the harvest that year and many villagers got through the winter just by selling woven items. This handicraft came from Dumitreni to the neighboring village of Chendu. This village is on a busy road and the handicrafts can therefore be offered for sale along the road.
Even today, many people are still braiding in Dumitreni and Chendu. Small baskets and trivets are woven as well as more complicated objects such as small boxes with lids or shopping bags. Mrs. Santa and her neighbor weave small baskets and trivets out of corn leaves for us. The leaves of the corn cobs are separated from the cobs and dried in autumn.
Before braiding, they are moistened and put in a sack. This makes them very flexible and prevents them from breaking during braiding. Ms. Santa said she was worried about the new imported hybrid corns. The local maize has the long cobs necessary for braiding, whereas highly cultivated maize varieties have short and thick cobs, whose short leaves cannot be braided. The promotion of this craft can also contribute to the preservation of older, local maize varieties.